Data sourced from Our World in Data
Cardiovascular disease and cancer remain the leading causes of death in the world, based on an analysis of data sources ranging from World Health Organization and Our World in Data. While respiratory illnesses were the third most common cause of death in 2019, deaths in this category surged in 2020. That year, COVID-19 alone became the top cause of death in the U.S., accounting for over 400,000 fatalities, according to CDC data.
The heart of the matter: Cardiovascular disease's persistent grip
Rising rates of obesity and diabetes in many parts of the world have played a role in cementing cardiovascular disease as the top international cause of death. But cardiovascular death rates have gradually fallen in many countries.  Bahrain, for instance, has seen a drop of roughly 341.18 deaths per 100,000 people from 1990 to 2019. The Czech Republic, Estonia and South Korea has all witnessed drops of more than 300 deaths per 100,000 people over the same period.
Yet, the global picture remains diverse. Countries such as China and Russia, for instance, despite showing a decline, still have alarming rates of cardiovascular death. China's cardiovascular death rate in 2019 stood at 432.92 deaths per 100,000 people. In Russia, although deaths from cardiovascular disease have dropped by roughly 137 deaths per 100,000 people from 1990 to 2019, the rate remains elevated. Russia's rate, however, is not the highest internationally. That distinction goes to Uzbekistan, which had a rate of 945.97 deaths per 100,000 people in 2019.
The data from Our World in Data highlights a clear correlation between advanced age and heightened risk of cardiovascular mortality. Individuals over the age of 85 suffered the highest death rate from heart disease, with almost 6,800 fatalities per 100,000 people. The cardiovascular death rate was considerably less — more than 90% — for those aged 65-69, at approximately 560 per 100,000. The data highlights the need for improved cardiovascular health management targeting older populations.
The ongoing battle against cancer
Despite reductions in cancer mortality, the global burden of death remains high in many parts of the world. Deaths from cancer are especially sharp in countries like Australia and Iceland, accounting for 28.78% and 26.67% of total deaths respectively. Conversely, Oman reports the lowest share, with cancer accounting for only 3.42% of its total deaths, according to data from Our World in Data.
Cancers of the tracheal, bronchus, and lung were especially common internationally, with the highest numbers of deaths reported globally and in the East Asia & Pacific as well as in the G20 region, which represents a mix of advanced and emerging economies. Cancers of the colon, rectum, stomach, breast and pancreas also have significant death tolls, as seen below: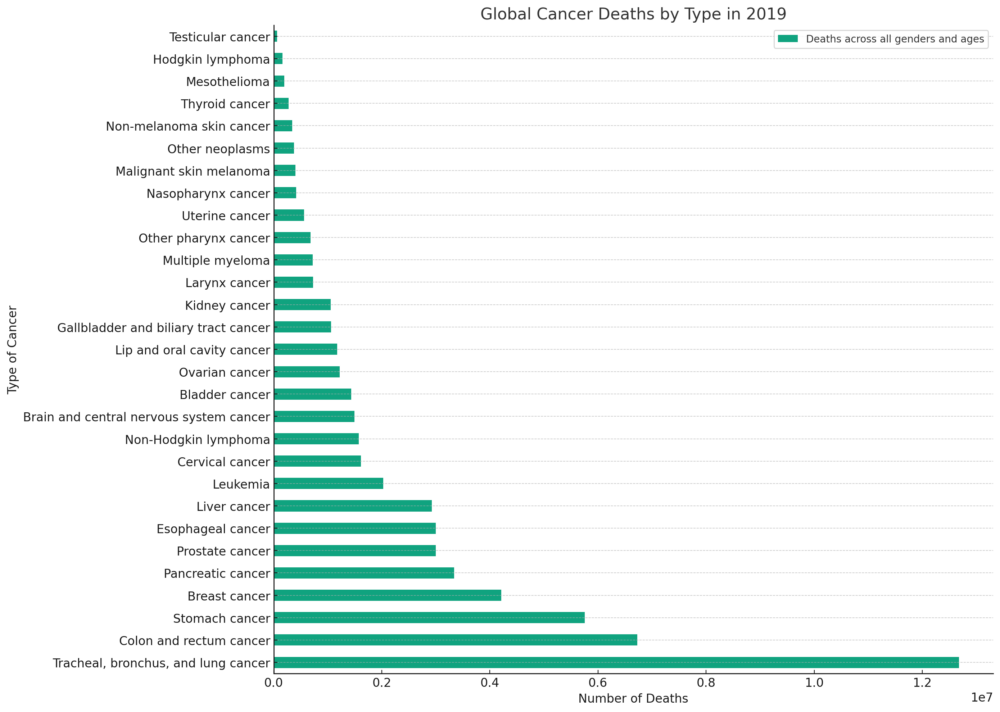 Global cancer deaths have increased since the 1980s
In the 1980s, cancer accounted for roughly 16% of global deaths. By 2019, that figure had risen to 20%. That equates to an absolute increase of around 4.5 percentage points in cancer deaths over the past four decades. The rise in cancer deaths translates to a 29% increase in the proportion of deaths attributed to cancer globally. A confluence of factors contribute to the trend, including an aging global population, more sedentary lifestyles and environmental factors.
The pandemic's impact on respiratory deaths
Respiratory diseases accounted for 8.69% of global deaths in 2019, but respiratory disease skyrocketed [when] as a result of the COVID-19 pandemic. Latin American countries like Peru, Mexico and Ecuador were especially hard hit. Between 2019 and 2020, Peru saw an increase of roughly 255 deaths per 100,000 people from respiratory infections. Mexico and Ecuador also saw steep rises with a jump of 183 and 162 deaths per 100,000 people, respectively, according to an analysis of data from Our World in Data.
Before the pandemic, the global average death rate from respiratory infections had noticeably declined from the 1950s to the 2000s, before plateauing. While the global average death rate from respiratory infections was relatively stable from 2015 to 2019, hovering between 18.84 and 20.00 deaths per 100,000 people, the figures tripled in 2020 — to 59.50 deaths per 100,000 people.
By September 15, 2023, the global cumulative count stood at more than 1.3 billion confirmed cases and more than 5.8 million deaths. The U.S., India, and the U.K. had significant case and death counts. The U.S. and India had similar numbers of infections — both topping 75 million and each had more than 1 million deaths. Conversely, the U.K. had more than 18 million cases and 292,000 deaths.
One silver lining of the pandemic for drug companies is that it provided an opportunity for the industry to showcase its R&D prowess, to boost its reputation and to generate new revenue. Vaccine sales had a positive correlation with the rise in COVID-19 cases. Moderna as well as Pfizer and BioNTech's combined COVID-19 vaccine sales all peaked in or near quarters with high case counts.
Pfizer and BioNTech fared especially well with COVID-19 vaccine sales (see below), amassing collectively $55.92 billion in 2022, COVID-19 therapies occupied three of the top five spots in global pharmaceutical sales rankings. Moderna's vaccine pulled in $18.435 billion while Pfizer and BioNTech's combined vaccine, Comirnaty, garnered a remarkable $55.92 billion in sales. Demand for COVID vaccines, however, has dropped considerably from late 2022 to present.
---
Filed Under: Cardiovascular, Drug Discovery, Infectious Disease, Oncology, Uncategorized
---