WASHINGTON—The United States ranks 1st in how its domestic policies support worldwide life sciences innovation, according to an analysis released today by the Information Technology and Innovation Foundation (ITIF), a global technology policy think tank. Released on World Health Day, the findings come in a new report assessing 56 countries—which together comprise close to 90 percent of the world's economy—on the extent to which their scientific research, drug pricing, and intellectual property policies contribute to global biopharmaceutical innovation.
"World Health Day is a time to reflect not just on what nations can do to generate better health outcomes for their own citizens now, but also for citizens around the world tomorrow," said coauthor Stephen Ezell, ITIF vice president for global innovation policy. "Life sciences innovation requires years of painstaking and expensive research. To ensure global health outcomes continue improving, more nations must do their share to support biopharmaceutical innovation and not free ride off the hard work and investment of the leaders."
Building on previous ITIF research that studied the impact of national policies on the global innovation ecosystem, this report shines a light specifically on biopharmaceutical innovation. Ezell and coauthor J. John Wu examined three policy areas that not only support life-sciences innovation domestically but also have positive spillover effects globally: governments' R&D expenditures on health; the extent of price controls on biopharmaceutical drugs; and intellectual property protections for life-science innovations.
The analysis found that the United States, Switzerland, Taiwan, Singapore, and Sweden have enacted policies that, on a per-GDP basis, contribute the most to global life-sciences innovation, while India, South Africa, Thailand, the Philippines, and Australia have policies that contribute the least.
"Despite tremendous progress over the past half century, the world is still not producing as much life-sciences innovation as is needed or possible," said Ezell. "Countries that fail to invest adequately in life-sciences research, pay less than their fair share for drugs, or put in place weak intellectual property protections for drugs hurt the entire global community by slowing down biopharmaceutical innovation that could cure or better manage diseases for future generations."
The report also found that countries with the strongest life-sciences policies also have some of the most competitive innovation ecosystems, meaning that doing well domestically can also mean doing well for the world.
"It is on the one hand understandable that policymakers tend to focus first and foremost on the short-term interests of their own citizens, but too many ignore the fact that this comes at the expense of less innovation of new drugs," said Robert D. Atkinson, ITIF president. "The bottom line is that all nations need to do their part to support robust global biopharma innovation."
Click here to read the report.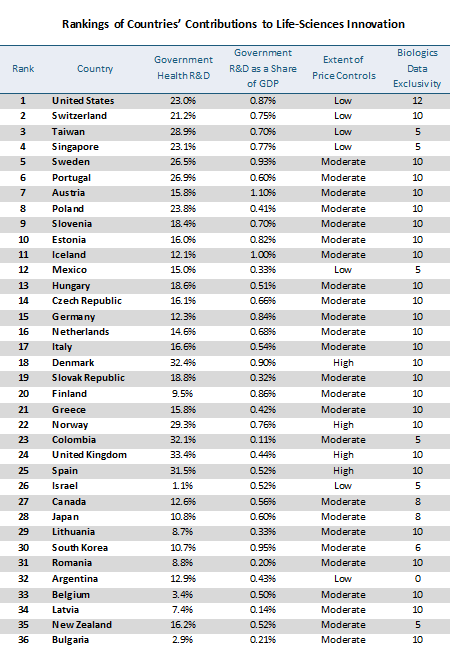 Follow us on Twitter and Facebook for updates on the latest pharmaceutical and biopharmaceutical manufacturing news!
---
Filed Under: Drug Discovery
---