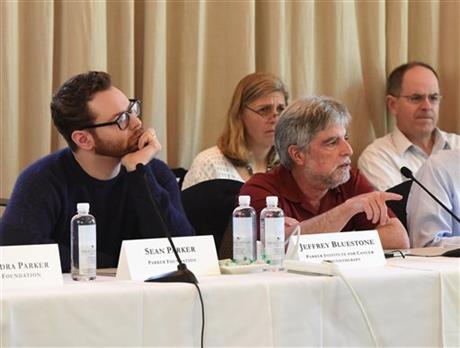 Sean Parker, the entrepreneur behind music-sharing service Napster, is providing a $250 million grant to support a consortium aimed at development of immunotherapy research.
This venture, a non-profit named the Parker Institute for Cancer Immunotherapy, will bring together more than 300 scientists from six major academic cancer research centers, according to The Washington Post. Stanford, Memorial Sloan Kettering Cancer Center, and the University of Pennsylvania are some of the members taking part in this endeavor.
One member from each of the participating institutions will constitute a steering committee, which will establish the group's research agenda as well as enable better collection of data and clinical trials across all of the involved labs.
It's a similar strategy being implemented in Vice President Joe Biden's Cancer Moonshot. A key tenet of this initiative is to "break down silos" regarding communication between the public and private sectors as a way to find a cure for these diseases.
Plus, The Washington Post notes another unique innovation of Parker's project is that the team will be able to retain ownership of the intellectual property while taking charge on licensing and negotiating potential market opportunities with drug-makers.
Parker provided this money because he felt immunotherapy research, "is at a turning point and would benefit from research that is done without regard for its costs," reported USA Today.
This class of drugs essentially activates the body's immune system in order to combat foreign pathogens. Early studies have shown these treatments have promise, but more research needs to be done in order to ensure these drugs can work on a large group of patients and are cost-effective.
R&D 100 AWARD ENTRIES NOW OPEN:
Establish your company as a technology leader! For more than 50 years, the R&D 100 Awards have showcased new products of technological significance. You can join this exclusive community! Learn more.
---
Filed Under: Drug Discovery
---