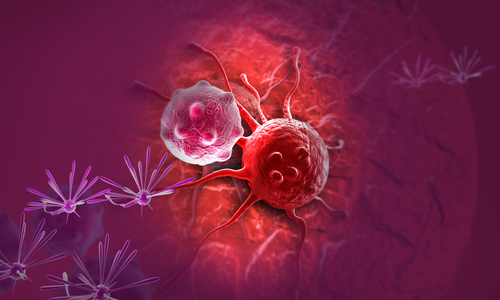 A new class of immunotherapy drug that harnesses the body's immune system to attack cancer cells, has shown continued promise fortreating various types of cancer in a series of trials presented at a US conference. 
The drugs, known as "checkpoint inhibitors", are designed to overcome cancer's ability to hide from the body's immune system.
One way cancers do this is by activating a safety mechanism whose normal function is to protect the body's own cells from  "friendly fire" from the immune system during infections.
One of the drugs, nivolumab blocks this mechanism by preventing a molecular 'switch' – made of a pair of proteins called PD-L1 and PD-1 -being pressed. 
Experts hailed a "new era" for cancer treatments after a series of trial results were presented at the American Society of Clinical Oncology's annual conference in Chicago.
Professor Peter Johnson, Cancer Research UK's chief clinician, said the finding suggests the beginnings "of a whole new era for cancer treatments."
Immunotherapy could even one day replace chemotherapy as the standard treatment for cancer, according to Professor Roy Herbst, chief of medical oncology at Yale Cancer Centre in the US.
He told reporters: "I think we are seeing a paradigm shift in the way oncology is being treated."
One study involved 945 patients with advanced melanoma.  
The British-led trial compared nivolumab in combination with an existing immunotherapy called ipilimumab, against either drug on its own.
Ipilimumab (known by the brand name Yervoy) is already available on the NHS for advanced melanoma.
Results showed that, when given the combination, more than half of patients saw their tumors shrink or be brought under control.
The treatment stopped cancer advancing for nearly a year in nearly two-thirds (58 percent of cases), with patients' tumors stable or shrinking for an average of 11.5 months, researchers found.
This was compared to a fifth (19 percent) of cases for ipilimumab alone, with tumors stable or shrinking for an average of 2.5 months, according to the research published in the New England Journal of Medicine.
But the combination also caused serious side effects. More than half (55 percent) of patients given the combination had serious side effects, and more than a third (36 percent) discontinued the treatment as a result. These included diarrhoea and colitis (inflammation of the bowel).
The study hasn't yet shown that the drugs extended the patients' lives overall, and longer follow-up will be needed.
Dr Alan Worsley, Cancer Research UK's senior science information officer, said: "This research suggests that we could give a powerful one-two punch against advanced melanoma by combining immunotherapy treatments.
"Together these drugs could release the brakes on the immune system while blocking cancer's ability to hide from it.
"But combining these treatments also increases the likelihood of potentially quite severe side effects. Identifying which patients are most likely to benefit will be key to bringing our best weapons to bear against the disease," he cautioned.
Another major trial presented at the conference involved patients who had already been treated for the most common form of lung cancer, but in whom the disease had returned and spread.
In the phase 3 trial, researchers compared the effectiveness of nivolumab against the standard chemotherapy drug docetaxel in 582 patients with advanced non-squamous non-small cell lung cancer (NSCLC).
Overall, nivolumab increased average survival time from 9.4 to 12.2 months.
Commenting on the findings, Dr David Chao, consultant medical oncologist at the Royal Free Hospital, London, said: "This announcement marks a paradigm shift in the treatment of lung cancer, the biggest cancer killer in the UK.
"This is the first time we have seen phase 3 immunotherapy data report survival benefit in this difficult to treat disease.
"For patients that have limited treatment options, it is very encouraging to see the early benefits immunotherapies such as nivolumab can have, and is just the beginning of the journey to further improve and refine these new treatments."
Unlike in the melanoma trials, in the lung cancer study  nivolumab caused fewer serious side effects than docetaxel chemotherapy. Severe side effects were reported in 10 percent of patients in the nivolumab group compared with more than half of those treated with the chemotherapy agent.
The drug was found to be most effective in patients whose cancers produced higher levels of the PD-L1 protein, potentially paving the way to personalised treatments.
Dr Worsley said: "Harnessing the power of our immune system to fight cancer will be an essential part of future treatments.
"This trial shows that blocking lung cancer's ability to hide from immune cells may be better than current chemotherapy treatments. Advances like these are giving real hope for lung cancer patients, who have until now had very few options."
Other trials suggested the drugs could be effective in head and neck cancers, liver cancer, and certain forms of bowel cancer.
However, Forbes was quick to point out the cost of these drugs was likely to be an issue.
In the case of the melanoma combination, the full course of ipilimumab and nivolumab is estimated to be a minimum of $200,000 (£131,440) per patient.
Nivolumab is already licensed in the US to treat a form of lung cancer under the brand name Opdivo.
It was approved by US regulators the Food and Drug Administration in a record five days after the license application was submitted by the pharmaceutical company Bristol-Myers Squibb.
Licenses allowing the drug to be used to treat lung cancer and melanoma skin cancer in Europe are expected soon. But the drug will then need to be assessed for cost effectiveness by regulatory bodies such as NICE before routine use on the NHS. 
Source: Cancer Research UK
---
Filed Under: Drug Discovery
---